We are a contemporary furniture publisher.
We design and manufacture furniture and accessories with our own identity, marked by inspiration in local materials.
"A personal bet, with a seal of its own."
ABANA Bilbao is the acronym for the surnames of the two partners that make up the project -Lucas Abajo and Laxmi Nazabal-, as well as our place of work.
In 2011 both partners launched Muka Design Lab, a personal commitment in the field of furniture design.
We started from a deep multidisciplinary knowledge based on experiences in the sectors of interior design and graphic and industrial design.
Our next step has been to create ABANA Bilbao, a space where to give a definitive and tangible form to our ideas and to offer diverse proposals of furniture and decoration accessories. The self-publishing of our own collection of furniture and accessories, has led us to bet on products that convey our professional concerns but also respond to the specific needs of the market.
"Our goal is to bring quality design and values to everyone."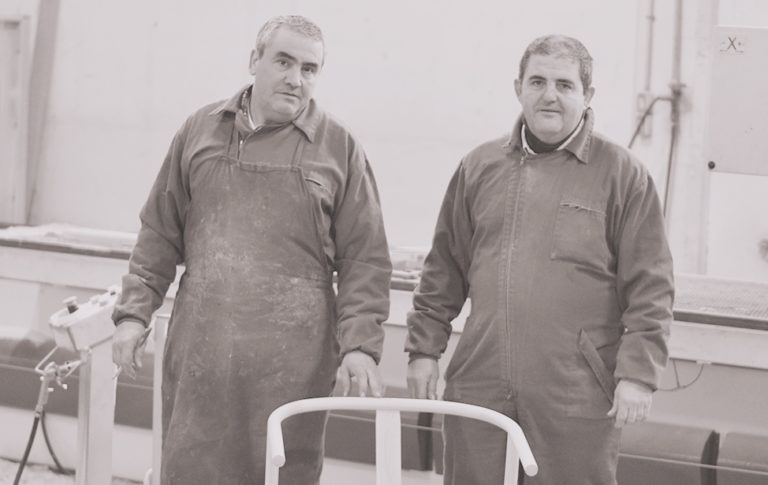 Our added value is that we deliver the products from the workshop to the final customer, without intermediaries. We offer an integral process in the field of furniture: from the conceptualization phase, the design, to the manufacture and its value to our customers.
We work with great artisans and local workshops to produce our objects and products. Every object we create, every piece of furniture and every accessory, from the concept, to its shape, even its material, begin with a story that gives life to every object. They are sustainable objects that inspire, help create pleasant environments and make life more beautiful and easier.
Precisely, this work has been admired from the outside by such prestigious media as AD Architectural Digest, Fast Company, Design Milk, Dezeen, Interior Design, Archi Expo or El País have echoed our work. Our designs have also been awarded at international exhibitions in Milan and Los Angeles, as well as a RedDot Award Design Concept.
It is a different proposal, which provides its own identity. A proposal that provides a personal style, more reflective, durable and sustainable.
"We have to change the paradigm in order to be able to grow without overusing our resources. That's because we manufacture products honestly, sustainable, near and with identity."